These days at Merritt's Bakery...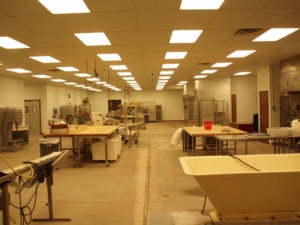 In late 2007, we moved our production staff to a new kitchen facility which we quaintly called "The Fort". After several years of expanding we had just out grown our kitchens in each retail location, and rather than move the stores (thus, inconvienencing our customers) we moved the kitchen. This solved several problems of having duplications in staff, equipment and supplies as well as managing it all. Our new kitchen was located just down the road from the Midtown store, so we can bake fresh all day and move the product almost to the doorstep of your neighborhood bakery whether it be in Midtown, Broken Arrow or now Riverside. The efficiencies gained allow us to keep prices lower, have better consistancy in our products, and make for a better work environment for our staff. Now we have been in "The Fort" for over a decade, what we only suspected has become a reality. We can produce every product with better control of quality and better production efficiencies, which means being able to maintain our pricing at current levels. This fulfills two of our company goals, being able to offer very high quality baked goods and at prices that anyone can afford.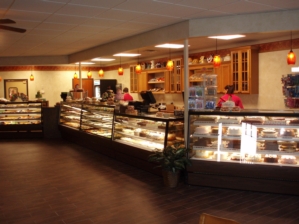 Starting that March in '08 we opened in the Jenks/Riverside area of Tulsa with our location at 101st & Riverside Drive. It was a large store with lots of extra space for growth and even a meeting room. Unfortunately, the road construction over the years we were there was just too much to stay in that location. The city closed the street three times in nine years on us making it very difficult to stay open there. So, in early 2018 we moved that store just down the street to 95th & Delaware (or Riverside Parkway) just in front of the big shopping center with Kohl's and next to the Walmart. This new location is more cozy and dramatically easier to find! We look forward to many more years there helping folks as they come over the Jenks bridge and pass right by the store.
The new Riverside/Jenks location is our 11th location for our little bakery. We have always tried to be where our customers needed us as quickly as we could possibly accomplish it. Of course, sometimes that takes us a little longer to get there than we (or you) would like, but we keep moving forward. Where we are today after 39 years in business is still a journey, some accomplished dreams and a few failures, but most important, a future of exciting new paths. Merritt's Bakery was built on our retail cake business and our wonderful customers. Retail baking will always be a part of Merritt's Bakery, however, our future holds the possibility of many other paths.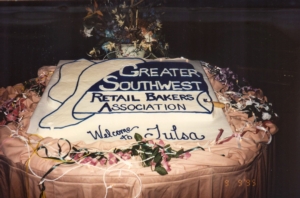 The Merritt family has always been very involved in the The Retail Bakery Association (RBA) and Greater Southwest Retail Bakers Association (GSWRBA). Besides being members of both associations, Larry has served on the Board of Directors of both associations, President of GSWRBA, Executive Committee of RBA, and as the President of RBA. For many years Bobbie has served as a guest cake decorator for the RBA workshop program. She has decorated in Sacramento, Los Angeles, Hartford, New Orleans, Springfield, Pittsburgh, Houston, San Antonio, Austin, and Dallas, and Colorado Springs. Merritt's Bakery is also a founding member of RPIA, a bakery buying group, which allows for innovative purchasing and advance product rollout. This elite group is comprised of many of the top privately held bakeries in America, and brings many new ideas, products, and methods to the Southwest bakery market.
The Merritt family's goals for the future include business growth, helping their employees to grow personally & professionally, service to the industry through RPIA, RBA, and GSWRBA; and, of course, bringing the best of baking from around the world to Tulsa!